Originally presented on January 13, 2016.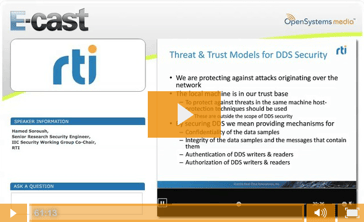 The Data Distribution Service (DDS) standard is quickly becoming adopted as the connectivity platform for the critical infrastructure and the Industrial Internet of Things, with deployments ranging from SCADA systems to large-scale medical, energy and defense systems.
The webinar includes discussions about the most recent work on the security specification for the DDS standard, its rationale, and architectural design. Related research and use cases in Industrial Internet of Things, including medical and energy sectors, will also be discussed.
Complete the form to watch the on-demand webinar.