Originally presented on June 23, 2016.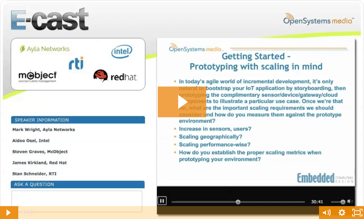 Companies making virtually any kind of embedded systems are now faced with the daunting task of inter-connecting these devices into a larger communications system that provides intelligent guidance for the user and important analytics that measure efficiencies and capabilities of the resulting IoT system. Creating prototypes of the environment can be deceptively simple – engineering teams may be able to put together compelling proof-of-concept prototypes in a matter of days or weeks. However, scaling these prototype systems to industrial or residential scales dramatically increases complexity in terms of maintaining performance, obtaining the right precision for the application, and interfacing to external systems with collection and analytics capabilities.
Join us as industry experts discuss scaling prototypes to full blown IoT applications in residential and industrial applications.