Out-of-the-Box Solution for Seamless and Performant WAN Connectivity
Real-Time WAN Transport is a smart transport that enables secure, scalable and high-performance communication over wide area networks (WANs), including public networks. It extends Connext® DDS capabilities to WAN environments. Real-Time WAN Transport uses UDP as the underlying IP transport-layer protocol to better anticipate and adapt to the challenges of diverse network conditions, device mobility, and the dynamic nature of WAN system architectures.
Real-Time WAN Transport, in combination with RTI Cloud Discovery Service, provides a complete, seamless solution out-of-the-box for WAN connectivity. This WAN connectivity solution, including Real-Time WAN Transport and Cloud Discovery Service, is available as an optional add-on product.
Highlights
UDP-based WAN connectivity
Network Address Translator (NAT) traversal
IP Mobility support
Secure communications
No dependence on any third party components, such as STUN servers
NAT traversal:
This is the ability to communicate between DomainParticipants running in a Local Area Network (LAN) that is behind a NAT-enabled router, and DomainParticipants on the outside of the NAT across a WAN. This functionality is provided in combination with Cloud Discovery Service.
IP mobility:
Real-Time WAN Transport offers support for network transitions and changes in IP addresses in any of the DomainParticipants participating in the communication.
Security:
Fine-grained security and access control is provided through the use of the RTI Security Plugins, which are the Connext implementation of the OMG® DDS Security built-in plugins.
Independence:
Real-Time WAN Transport does not require third-party components, such as STUN servers, or protocols such as SIP, to handle session establishment. Using a single API and security model, users leverage the extensive capabilities of the Connext framework and ecosystem, including tools and infrastructure services, even for real-time connectivity from edge to cloud and back, in highly distributed systems that communicate across wide area networks.
Supported

Deployment Scenarios
Edge-to-Data Center Deployment Scenario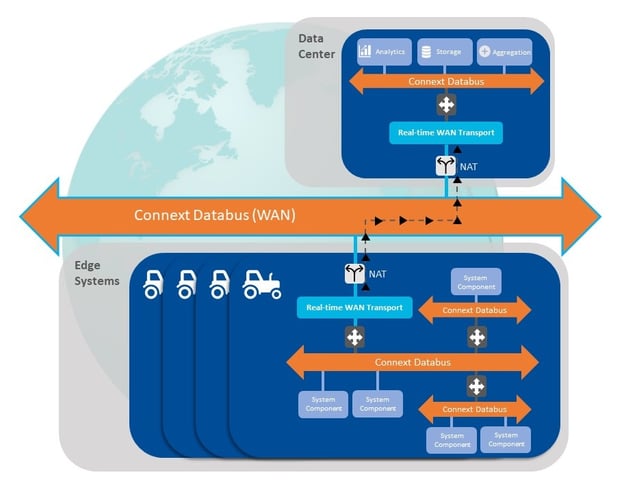 An example scenario of an Edge-to-Data Center deployment for a fleet of tractors using a Routing Service in the tractors and in the data center. This is one of the many deployment configurations that Real-Time WAN Transport supports.

As edge applications are distributed across the WAN, it becomes necessary to move some computation and storage to data centers or clouds to support use cases such as data storage, data analytics and others. Edge applications may also have to receive information from the data centers and/or cloud, such as over-the-air (OTA) updates.
Real-Time WAN Transport, along with RTI Routing Service, provide a scalable and secure gateway component at the edge applications to send and receive information from the data centers.
In the cloud or data center, another gateway Routing Service instance with Real-Time WAN Transport sends and receives information from edge applications, which removes the need for every application running in the data center to use individual instances of the Real-Time WAN Transport.
Relayed Edge-to-Edge Deployment Scenario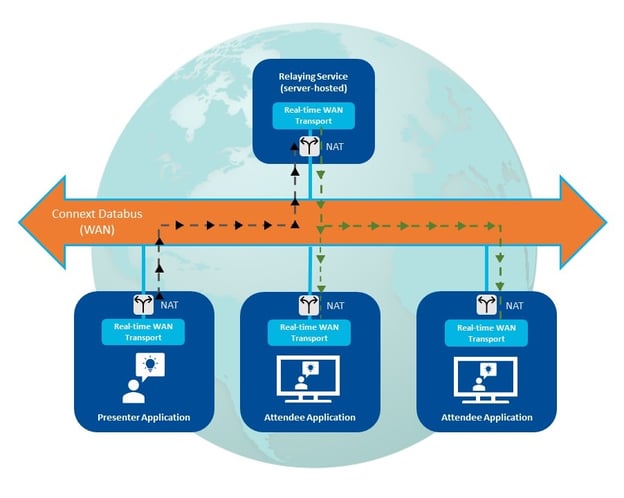 Real-time WAN Transport also supports applications over WAN where communication cannot be peer-to-peer due to:
The NATs environment is not known in advance.
One system is transmitting information that other systems want to receive (such as a Webinar application)
The system transmitting the information depends on a cloud application to relay the information to the receiving applications
To implement this scenario, the transmitting Connext application will send the content to a Routing Service instance running in a data center or the cloud. In this case, the Routing Service instance will be in charge of relaying the content to the different attendees. Note that, for the sake of simplicity, we only have one Routing Service in this example. In a real-world scenario, there may be multiple Routing Services organized in a hierarchical manner relaying the signal to different sets of attendees.
Peer-to-Peer, Edge-to-Edge Deployment Scenario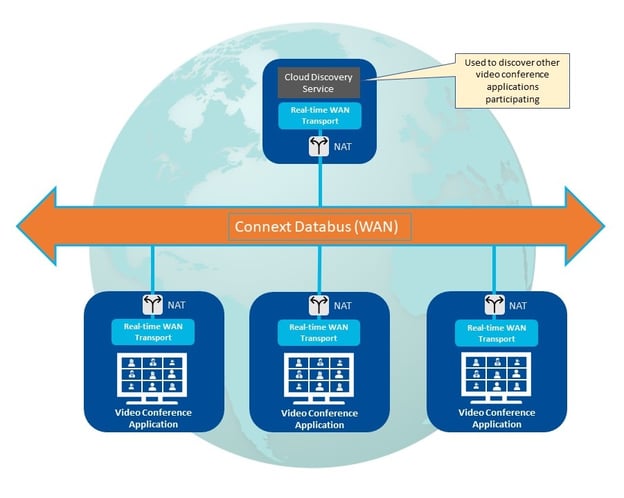 Real-time WAN Transport can also support a scenario where applications that intend to communicate with each other are determined dynamically. In this scenario, Connext applications can use a cloud-hosted Cloud Discovery Service as a directory to discover other WAN Connext applications.
Join the RTI Community
Post your questions, search through our Knowledge Base and get the most from your Connext experience by joining the RTI Community!
---