Originally presented on april 27, 2016.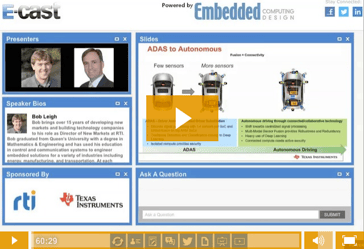 Active safety, or ADAS, systems comprise a complex mix of interconnected sensors, actuators, compute, and image and data processing algorithms designed to save lives without distracting drivers. In this OpenSystems Media E-cast, automotive silicon and software experts show how technologies such as radar, lidar, sensor fusion, and in-vehicle connectivity software are evolving to make today's roads safer while paving the way for tomorrow's semi- and fully-autonomous cars.
Complete the form to watch the on-demand webinar.