Solution provides fast, flexible infrastructure for equities and options trading
NEW YORK, SIFMA Management Technology Conference—June 10, 2008—Real-Time Innovations (RTI), The Real-Time Middleware Experts, and Zivlyn Systems LLC, a consulting company that specializes in providing custom technology solutions to financial institutions, announced today a partnership to develop a next-generation trading system based on RTI middleware. Responding to the surge in market volume, Zivlyn and RTI designed the new system to provide a highly-scaleable, ultra-low latency solution to replace legacy (1990s) systems. The new architecture scales well for automated and high-performance trading in very large networks.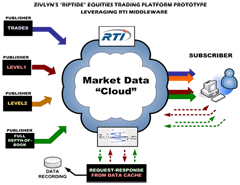 (Click on image to enlarge)
"As market data volumes have risen exponentially in the past few years, several firms have suffered revenue losses directly caused by inadequate infrastructure," said Robert Provenzano, president of Zivlyn Systems. Zivlyn took a proactive approach and upgraded their systems within the strict timeframes of a phased delivery. The power and functionality of the RTI API enabled Zivlyn to progress from the concept phase to implementation in less than three months. "Traders make money by seizing opportunity in a fast moving market—they need a system to be fast when data volumes are at their peak. After extensive testing, we are confident that RTI will dramatically minimize these delays caused by fluctuating bursts of market data."
David Barnett, vice president of Real-Time Innovations, commented, "With three developers, Zivlyn has delivered the next-generation packaged equities solution for the U.S. mid-market."
The new Zivlyn Trading System, code-named "Riptide," is a paradigm shift in the traditional client-server design. Legacy systems use concentrated sockets as middleware, so the more traders you have, the more servers you need. Riptide breaks this scalability threshold by incorporating RTI's durable publish-subscribe model with a new request-response mechanism that extends the capabilities of a traditional data distribution system. In this way, a system can operate with lower latency at a fraction of the hardware footprint of most traditional trading platform back-ends. Also, a full suite of feed handlers will be available for NYSE and NASDAQ data feeds when the product releases.
Barnett added, "Zivlyn has utilized the most advanced capabilities of RTI, including partitioning of data by symbol and by exchange, and leveraging built-in local caching. In addition, by leveraging RTI engineering services, the Zivlyn team was able to quickly integrate the RTI product set and focus on implementing core trading functionality."
About Zivlyn
Zivlyn Systems LLC is a leading provider of next generation distribution systems for financial institutions and other dynamic, transaction oriented organizations. Zivlyn specializes in providing mission critical systems to financial companies by empowering them to more efficiently generate revenue and keep costs from escalating. Zivlyn has powered several leading Wall Street players and they have years of hands on experience developing solutions for mission critical systems. The company's diverse expertise in network infrastructure, cutting edge delivery systems and robust application development positions Zivlyn to be the premiere technology provider for financial institutions.
About RTI
Real-Time Innovations (RTI) provides high-performance infrastructure solutions for the development, deployment and integration of real time, data-driven applications. RTI's messaging, caching, Complex Event Processing (CEP) and visualization capabilities deliver dramatic improvements in latency, throughput and scalability while slashing cost of ownership. The company's software and design expertise have been leveraged in a broad range of industries including defense, intelligence, simulation, industrial control, transportation, finance, medical and communications. Founded in 1991, RTI is privately held and headquartered in Sunnyvale, CA. For more information, please visit www.rti.com.
# # #
RTI, Real-Time Innovations, RTI Data Distribution Service, Connext and 1RTI are registered trademarks or trademarks of Real-Time Innovations, Inc. All other trademarks are property of their respective companies.