RTI Data Distribution Service middleware paired with Wind River's VxWorks 653 real-time operating system provides first open-standard platform for avionics applications
SUNNYVALE, Calif.—February 16, 2011—Real-Time Innovations (RTI), The Global Leader in DDS, today announced that its market-leading Data Distribution Service for Real-Time Systems (DDS) middleware now supports Wind River's VxWorks 653 real-time operating system (RTOS). This first combination of DDS-compliant middleware with an ARINC 653 compliant RTOS dramatically reduces the time and cost required to develop and integrate distributed avionics software. The combined solution also drives down lifecycle costs by supporting standards-compliant programming interfaces and protocols, eliminating the pitfalls inherent in traditional proprietary solutions.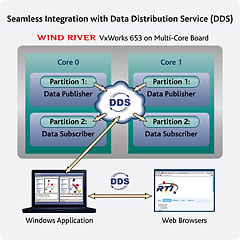 DDS enables real-time data exchange between traditional computers and embedded devices and over the web. In the case of ARINC 653, data can be published and subscribed between multiple partitions and cores, enabling rapid integration of applications sharing the hardware.
(Click to see at full size)
Today, most avionics software relies on custom, vendor-specific integration logic that couples integrated applications with the underlying communication mechanism. This tight coupling results in high maintenance and upgrade costs because all applications must be updated and tested in lockstep whenever the communication mechanism changes. This can occur, for example, when modifying separate federated components on a common communications bus, or moving federated avionics components into an integrated modular avionics (IMA) system.
RTI Data Distribution Service eliminates this coupling and the resultant cost, complexity and maintenance. Instead of using hardcoded integration logic, applications communicate by simply publishing the data they produce and subscribing to the data they need. RTI automatically connects matching publishers and subscribers in a plug-and-play manner, so applications need no direct knowledge of each other. Communication is seamless, whether within an ARINC 653 partition or between partitions, cores or systems. This enables rapid scalability and system reconfiguration.
"Having RTI Data Distribution Service support for VxWorks 653 is a great benefit for avionics application developers," states Chip Downing, senior director of aerospace and defense at Wind River. "DDS enables rapid integration of applications that will share the ARINC 653 platform, taking full advantage of multiple partitions and cores. Abstracting away ARINC 653 ports, hardware inter-process and inter-core communications, and off-board network communication layers using DDS middleware also enables more extensive reuse of DDS-based ARINC 653 application components and accelerates the time to deployment for new platforms."
"RTI customers working on multi-supplier IMA programs for next generation aircraft use VxWorks 653 to address size, weight and power issues by deploying multiple applications on consolidated, multi-core hardware," said Curt Schacker, vice president of field operations at RTI. "RTI Data Distribution Service facilitates this by easing integration of these applications, which are independently developed and delivered by multiple contractors."
Seamless integration between RTI Data Distribution Service and VxWorks 653 on a multi-core processor will be demonstrated at the upcoming AUVSI Pathfinder's Unmanned Systems Roadmap to the Future conference on March 16-17, 2011, in Huntsville, Ala., and the Avionics and Defence Electronics Europe conference on March 16-17, 2011, in Munich, Germany.
About Wind River VxWorks 653
Wind River VxWorks 653 is an ARINC 653 conformant application executive (APEX) for safety-critical avionics systems. ARINC 653 is the international specification for IMA and is now the standard for most new aircraft designs worldwide. Wind River's VxWorks 653 architecture enables multiple software applications to share the same hardware, thereby reducing SWaP requirements. The VxWorks 653 platform is currently in use by over 110 customers in more than 210 avionics programs, installed in over 45 aircraft, making it the most prevalent ARINC 653 implementation in the industry. In addition, VxWorks 653 provides COTS RTCA DO-178B and EUROCAE ED-12B Level A certification evidence, consisting of over 70,000 hyperlinked files, which enables rapid deployment of VxWorks 653 in safety-certified systems.
About RTI Data Distribution Service
RTI Data Distribution Service (DDS) is the world's most widely used implementation of the Object Management Group (OMG) DDS specification. DDS is the leading standard for integrating distributed real-time applications and systems-of-systems. By bringing the benefits of a Service Oriented Architecture (SOA) to demanding mission-critical systems, DDS dramatically reduces the time and cost required for development, integration, testing, maintenance and upgrades.
Pricing and Availability
RTI Data Distribution Service for VxWorks 653 is available today as an early-access release. Pricing begins at $21,000 USD for new customers.
About RTI
Real-Time Innovations (RTI) is the world's leading provider of middleware compliant with the Object Management Group (OMG) Data-Distribution Service for Real-Time Systems (DDS) standard. With over 70 percent market share, more than 400 unique projects take advantage of RTI's software and expertise to slash the time and cost of systems integration. These span a broad range of industries including aerospace, defense, finance, intelligence, power generation and transportation. Founded in 1991, RTI is privately held and headquartered in Sunnyvale, CA. For more information, please visit www.rti.com.
# # #
RTI, Real-Time Innovations, RTI Data Distribution Service, Connext and 1RTI are registered trademarks or trademarks of Real-Time Innovations, Inc. All other trademarks are property of their respective companies.