RTI Data Distribution Service 4.5e Provides a Unified Framework for Edge-to-Enterprise Connectivity
SUNNYVALE, Calif.—Nov. 15, 2011—Real-Time Innovations (RTI), The Global Leader in DDS, today announced the release of RTI Data Distribution Service 4.5e. This latest RTI Data Distribution Service release provides the most advanced solution for integrating operational systems ("edge" assets), such as sensors, satellites, unmanned vehicles and other embedded devices—both with each other and with IT systems. By enabling real-time, enterprise-wide connectivity, RTI provides organizations with unprecedented levels of efficiency, situational awareness, responsiveness and agility.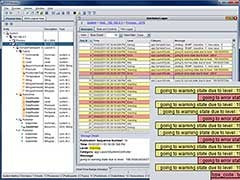 RTI bridges the data divide between "edge" assets and the enterprise with features such as Distributed Logger, enabling easy collection and analysis of log information over highly heterogeneous systems.
Click on image to view at full size.
Featuring new optimized communication protocols, RTI Data Distribution Service 4.5e eases integration across many types of networks and links. This includes connectivity to devices and systems hampered by resource-constrained communication channels such as radio and satellite links—the challenging environments commonly found in distributed operational systems. RTI offers a unified integration framework for highly heterogeneous systems, ranging from high-performance applications running on enterprise-class servers and high-speed networks to embedded applications running on specialized platforms and across Disconnected, Intermittent and Limited (DIL) communication links.
"With the deployment of automated transportation monitoring systems, military drones, mining equipment and more, the volume of remote assets is quickly growing. Most of these assets are accompanied by the challenge of limited bandwidth, so managing them across radio and satellite links is not easy," said Dr. Edwin de Jong, director of product management and strategy at RTI. "Signal latency can be high—on the order of seconds for satellite links. Optimized communication protocols are essential to utilize available network bandwidth and allow applications to prioritize information when sufficient bandwidth is unavailable."
RTI Data Distribution Service 4.5e includes exciting new features and benefits:
Optimized communication protocols across resource-constrained networks – RTI Limited-Bandwidth Plug-ins—a new add-on option—address the challenges of constrained-network communication. The plug-ins are designed to overcome situations where a network is constrained by low or limited bandwidth, intermittent connections or related issues.
Improved real-time responsiveness using prioritized messaging – Applications can experience significantly improved response times for critical events by taking advantage of prioritized update messages. An application's send queue may fill up when peak load exceeds the available network bandwidth or when throughput drops on intermittent and variable-bandwidth communications links. Using prioritized messages, RTI Data Distribution Service 4.5e will send the most urgent updates first, ensuring continued operation of mission-critical processes. Priority assignments are very flexible, ranging from the level of publishers down to the level of publishers down to the level of individual updates, allowing very fine-grained control.
Easy collection of log messages from remote applications – The new RTI Distributed Logger provides for easy collection and analysis of log information from distributed applications via the RTI Monitor graphical user interface. Users can log messages through the existing logging infrastructure and receive notifications in real time when error or warning conditions occur anywhere in the distributed system. Messages can be centrally collected and stored to disk for later analysis and troubleshooting.
Graphical interface for record and replay – The new Recording Console provides a point-and-click interface for RTI Recording Service. The Recording Console makes it simpler than ever to test algorithms and other processing logic against pre-recorded test data, conduct regression testing from "golden" data inputs and record live data from the field for post-mission analysis.
Expanded desktop and embedded platform support – This release adds support for over 20 new desktop and embedded platforms, including Red Hat Enterprise Linux 6.0 and 6.1 platforms on 32- and 64-bit Intel processors, QNX 6.4.1 and 6.5 platforms on Intel processors, VxWorks 6.8 and 6.9 platforms on Intel and PowerPC processors, Wind River Linux 3 platforms on PowerPC processors, INTEGRITY 5.0.11 platforms on PowerPC processors, and INTEGRITY 10 platforms on Intel processors. RTI Data Distribution Service 4.5e also adds support for safe and secure platforms, including VxWorks 653 version 2.3 and VxWorks MILS 2.1.1 operating systems.
Availability
RTI Data Distribution Service 4.5e is available now. Free trial downloads for Windows and Linux are located at http://www.rti.com/downloads.
Existing RTI customers can log in to the RTI Customer Portal at https://support.rti.com for detailed release information and software downloads.
About RTI
Real-Time Innovations (RTI) delivers fast and scalable messaging software. It serves as the foundation for a range of mission-critical applications from military systems to stock trading to medical imaging. RTI is the world's leading provider of messaging middleware compliant with the Object Management Group (OMG) Data Distribution Service for Real-Time Systems (DDS) standard. With over 70 percent market share, RTI Data Distribution Service dramatically improves system performance while slashing costs. Founded in 1991, RTI is privately held and headquartered in Sunnyvale, CA. For more information, please visit www.rti.com.
# # #
RTI, Real-Time Innovations, RTI Data Distribution Service, Connext and 1RTI are registered trademarks or trademarks of Real-Time Innovations, Inc. All other trademarks are property of their respective companies.