SUNNYVALE, Calif.—March 6, 2012—Real-Time Innovations (RTI), the world leader in delivering fast, scalable communications software that addresses the challenges of building and integrating real-time operational systems, today announced the appointment of Jan Van Bruaene as Vice President of Engineering. Van Bruaene's promotion to this critical role supports RTI's recent announcements of its new Connext solutions and expanded strategic direction. The Connext family addresses the challenge of building and integrating real-time Service Oriented Architectures (SOA) and bridging them to the wider enterprise.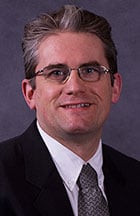 "Jan's technical background in networking, operating systems and middleware is perfectly aligned with RTI's product development needs," said Stan Schneider, CEO of RTI. "Supplementing his technical breadth and depth, Jan is a talented manager and excels at strategy execution. We've had the pleasure of working with him in several roles at RTI and know he is well suited to execute on our technology vision."
Van Bruaene's background includes technical and customer-facing leadership roles at companies such as Sun Microsystems and VLSI Technology. He has led professional services, support, and engineering teams in networking and telecom systems, and has experience in middleware, grid application and infrastructure software, operating system design, device drivers' development and network chip development.
"RTI is moving in an exciting direction with its new Connext product line and I'm thrilled to play a more significant role at this critical time in the company's evolution," said Jan Van Bruaene, Vice President of Engineering at RTI. "Having worked closely with RTI customers on engagements, I've witnessed first-hand the quality and performance of RTI solutions and am excited to lead the engineering organization as it continues to produce market-leading solutions."
About RTI
RTI is the world leader in delivering fast, scalable, communications software that addresses the challenges of building and integrating real-time operational systems. RTI Connext solutions meet the needs of enterprise-wide integration—from the operational edge to the enterprise data center. The RTI standards-based software infrastructure improves the efficiency of operational systems while facilitating better decisions, actions and outcomes for the business enterprise.
For over ten years, RTI has delivered industry-leading products and solutions for customers in markets ranging from Aerospace & Defense, Process Automation, Financial Services, Energy, Automotive, Health Sciences and Transportation Management.
Founded in 1991, RTI is privately held and headquartered in Sunnyvale, California.
# # #
RTI, Real-Time Innovations, RTI Data Distribution Service, Connext and 1RTI are registered trademarks or trademarks of Real-Time Innovations, Inc. All other trademarks are property of their respective companies.