RTI recognized as top 2009 unmanned aircraft system (UAS) component vendor
SUNNYVALE, CA—September 8, 2009—Real-Time Innovations (RTI), The Real-Time Middleware Experts, today announced that it has received the 2009 North American Unmanned Aircraft Systems Components Market Technology Leadership of the Year Award from Frost & Sullivan, a renowned global consulting company.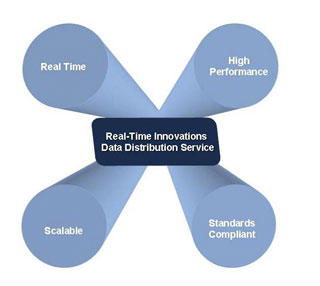 The prestigious award recognizes RTI for its leadership in deterministic, real-time systems and the profound impact RTI Data Distribution Service and the company's other innovative solutions are making on the unmanned systems industry.
"For a UAS to operate effectively, all subsystems have to be working together to achieve a common goal, and this requires the free flow of data between systems," explained Frost & Sullivan research analyst Lindsay Voss. "Efficient movement of data within a UAS is a difficult engineering challenge. Data distribution is at the heart of ensuring UASs accomplish their missions and deliver the critical information needed by warfighters in the field. With its leading position as a Data Distribution Service provider, RTI is ensuring that UASs and many other defense platforms are equipped with state-of-the-art technology. As a result of the company's dedication to data transfer and contributions to the unmanned aircraft industry, Frost & Sullivan is honored to award Real-Time Innovations with the 2009 Technology Leadership Award."
"Working to solve the problem of UAS data movement is an endeavor with which RTI has been actively involved for many years," said Dr. Gerardo Pardo-Castellote, chief technology officer at RTI. "Born out of the Stanford University Aerospace Robotics Laboratory, RTI continues its pursuit to provide the unmanned systems industry with a scalable, flexible and adaptable approach to data movement. We are honored to receive this award in recognition of our ongoing commitment to meeting the needs of the UAS industry."
About RTI Data Distribution Service
RTI Data Distribution Service is a high-performance messaging and integration infrastructure for real-time, net-centric applications. It meets the demanding requirements of mission-critical systems, including deterministic performance, low latency, high throughput, fault tolerance, the ability to run in ad hoc and autonomous environments, and support for unreliable or low-bandwidth networks such as wireless and satellite links. The solution's loosely coupled integration approach significantly reduces long-term software maintenance costs because it allows individual subsystems to be added or upgraded without impacting existing software.
RTI Data Distribution Service provides an application programming interface (API) that complies with the Object Management Group (OMG) Data Distribution Service for Real-Time Systems (DDS) specification, the leading standard for real-time application integration. RTI also natively supports the Real-Time Publish-Subscribe (RTPS) wire protocol for peer-to-peer interoperability with other RTPS-compliant DDS implementations. RTI is the world's leading supplier of DDS-related software and services.
About Frost & Sullivan
Frost & Sullivan, the Growth Partnership Company, enables clients to accelerate growth and achieve best in class positions in growth, innovation and leadership. The company's Growth Partnership Service provides the CEO and the CEO's Growth Team with disciplined research and best practice models to drive the generation, evaluation, and implementation of powerful growth strategies. Frost & Sullivan leverages over 45 years of experience in partnering with Global 1000 companies, emerging businesses and the investment community from more than 35 offices on six continents. To join our Growth Partnership, please visit http://www.frost.com.
About RTI
Real-Time Innovations (RTI) provides high-performance messaging and integration infrastructure for distributed real-time applications. RTI is the leader in the rapidly growing market for Data Distribution Service (DDS) compliant middleware. A broad range of industries leverage the company's software and design expertise, including defense, intelligence, simulation, industrial control, power generation, transportation, finance, medical, and communications. Founded in 1991, RTI is privately held and headquartered in Sunnyvale, CA. For more information, please visit www.rti.com.
# # #
RTI, Real-Time Innovations, RTI Data Distribution Service, Connext and 1RTI are registered trademarks or trademarks of Real-Time Innovations, Inc. All other trademarks are property of their respective companies.