RTI Enhances Software Development for Mission Critical Avionics
SUNNYVALE, Calif.—April 9, 2013—Real-Time Innovations (RTI), the real-time infrastructure software company, today announced that Embraer Defense and Security has selected Connext™ DDS (Data Distribution Service) for the software development of its KC-390 military transport aircraft mission computer. With this announcement, RTI also expands its presence into South America.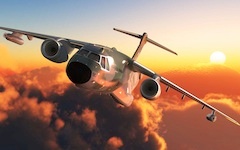 "RTI is honored that Embraer has selected our Connext DDS solution to aid in software development for their KC-390 military aircraft," said Curt Schacker, chief commercial officer at RTI. "Defense procurement is shifting and RTI is pioneering the way toward interoperable open architecture (IOA) for high-performance distributed systems. Our leading-edge technology enables faster deployment and increased software development productivity for large-scale, mission critical systems."
With more than 40 years of experience in supplying superior platforms and systems to armed forces around the world, Embraer Defense and Security has a growing presence in the global market and fulfills a strategic role in Brazil's defense system. Embraer Defense and Security's portfolio includes military airplanes, state-of-the-art radar technologies, unmanned drones, and advanced information and communications systems, such as Command, Control, Communications, Computers, Intelligence and Surveillance and Reconnaissance applications (C4ISR). Embraer aircraft and military solutions are found among more than 50 armed forces in 48 countries.
Embraer is currently developing the KC-390, a twin-engine military airplane primarily designed to transport cargo and troops and perform aerial refueling. The KC-390 uses state-of-the-art avionics and is now making use of Connext DDS to increase software development productivity for the KC-390 Mission Computer.
Embraer is using Connext DDS on its multi-processor Mission Computer to integrate software applications running on top of different CPUs and operating systems. The Israeli Air Force is currently using Connext DDS on VxWorks 653 for the IMA of the F-35's that they are buying from the U.S.
Connext DDS reduces the time, cost and risk of adopting a real-time Service Oriented Architecture (SOA) and Open Architecture (OA). With the highest U.S. DoD maturity level, TRL 9, Connext DDS is a perfect fit to aid software development for Embraer's KC-390 Mission Computer and is used for inter-partition communications as well as inter-node communications. With Connext DDS, Embraer will have the flexibility to add new software functions to the Mission Computer with little to no disruption to the current software.
About RTI
RTI is the real-time infrastructure software company.
RTI provides the messaging backbone for the world's most demanding real-time systems. RTI Connext™ enables applications – running on the smallest devices and the largest enterprise servers – to seamlessly share information and work together as one.
Committed to open standards, open community source and open architecture, RTI provides the leading implementation of the Object Management Group (OMG) Data Distribution Service (DDS) standard.
Our customers are in aerospace and defense, process automation, financial services, energy, automotive, health sciences and transportation. RTI is privately held and headquartered in Sunnyvale, California.
# # #
RTI, Real-Time Innovations, RTI Data Distribution Service, Connext and 1RTI are registered trademarks or trademarks of Real-Time Innovations, Inc. All other trademarks are property of their respective companies.