RTI's growth in emerging markets fuels focus on brand development
SUNNYVALE, Calif.—December 6, 2010—Real-Time Innovations (RTI), The Real-Time Middleware Experts, today announced the appointment of Barbara Radabaugh as vice president of marketing. Radabaugh will be responsible for outbound marketing strategy and execution with a focus on developing RTI's brand worldwide. She reports to Stan Schneider, CEO of RTI.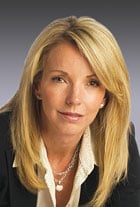 Barbara brings more than 20 years experience both in corporate and agency roles. Her background includes positions at both large and small technology companies including Quantum, Stratus Computer, Sprint and Ford Aerospace. She also ran her own marketing and consulting agency for more than 10 years.
"I am excited about Barbara's ability to raise awareness of RTI in our current and prospective markets," said Stan Schneider. "We have a great story to tell about our industry-leading products, proven track record of success, luminary customers and market-share ownership. Barbara will take our transformative message and brand to the next level."
Barbara's expertise in communications includes public relations, Web and online, advertising, trade shows and events, and internal communications. Her agency provided branding and messaging strategy to technology firms on the West Coast. As RTI continues to expand globally as well as into emerging markets, Radabaugh is tasked with building the perception of RTI in the worldwide marketplace.
About RTI
Real-Time Innovations (RTI) is the world's leading provider of middleware compliant with the Object Management Group (OMG) Data-Distribution Service for Real-Time Systems (DDS) standard. With over 70 percent market share, more than 400 unique projects take advantage of RTI's software and expertise to slash the time and cost of systems integration. These span a broad range of industries including aerospace, defense, finance, intelligence, power generation and transportation. Founded in 1991, RTI is privately held and headquartered in Sunnyvale, CA. For more information, please visit www.rti.com.
# # #
RTI, Real-Time Innovations, RTI Data Distribution Service, Connext and 1RTI are registered trademarks or trademarks of Real-Time Innovations, Inc. All other trademarks are property of their respective companies.