ATLANTIDA Selects RTI for Integration of Unmanned Air Systems and Air Traffic Management
SUNNYVALE, Calif.—January 27, 2010—Real-Time Innovations (RTI) announced today that ATLANTIDA, a consortium for the development and demonstration of air traffic management (ATM) technologies, selected RTI Data Distribution Service for use in its unmanned air system (UAS) platforms. RTI Data Distribution Service provides a flexible integration infrastructure that allows individual UAS components to be easily changed and reconfigured, saving time and cost. RTI Data Distribution Service also fosters software portability and interoperability through compliance with the Object Management Group (OMG) Data Distribution Service for Real-Time Systems (DDS) specification, the leading standard for real-time application integration.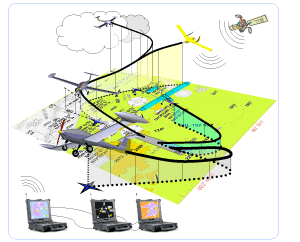 Schematics of the ATLANTIDA experimental setup
ATLANTIDA is exploring an approach for automating ATM that is seamlessly applicable to all air vehicle operations, including conventional aviation, civil and military unmanned air vehicles (UAVs), very light jet (VLJ) operations and the futuristic personal air transport systems. Because UASs sit at the technological forefront with respect to automating air vehicle operations, UAS integration into the ATM system is often perceived as the most difficult problem that future ATM systems need to address.
DDS reduces the complexity of designing UAVs by providing a data-centric integration foundation. A UAV that uses DDS as its software integration platform supports largely interchangeable hardware and applications. DDS also affords a great deal of flexibility to the actual payload. DDS can integrate sensors and data-recording instruments, ensuring that continuous data streams are available to record and analyze data. DDS supports real-time communication, ensuring that telemetry data to and from the ground station is exchanged reliably and deterministically. DDS also allows engineers to make fine-grained Quality of Service (QoS) trade-offs to ensure that system data availability requirements are met. QoS settings can even be changed at runtime to meet specific mission requirements.
DDS is currently used in implementations of both UAVs and ground stations. For example, RTI Data Distribution Service underlies the General Atomics Advanced Cockpit Ground Control Station (GCS). The GCS networking system integrates controls and information displays, synthetic video, and fused situational-awareness data.
The ATLANTIDA Consortium is a team of 17 companies and 17 top-tech investigation organizations led by Boeing Research & Technology Europe (BR&TE). In such a large team, defining the different modules and the interactions between them can be a difficult task. DDS uses a publish-subscribe model focused on the data exchanged between different subsystems to clearly define the flow of the communication in heterogeneous distributed systems.
The ATLANTIDA initiative represents the main international research and development (R&D) effort in the area of civil UAV operations and the third largest effort related to ATM, complementing the SESAR and NextGen initiatives.
The project has received an explicit endorsement by Eurocontrol (the European agency for Air Navigation safety) and has invited the major international ATM R&D and UAS organizations, such as the European Commission, NASA and FAA, as well as numerous international stakeholders in ATM and UAS domains, to join its international advisory committee.
With a budget of 28.9 million euro (44 percent financed by the Spanish Center for Technological and Industrial Development [CDTI]) and 2010 as the time horizon, the ATLANTIDA project will tackle the technological and scientific challenges that need to be addressed for high levels of automation to be introduced into the management of complex air spaces.
About RTI Data Distribution Service
RTI Data Distribution Service provides a high-performance infrastructure for the development and integration of distributed real-time applications. It meets the demanding requirements of mission-critical systems, including deterministic performance, low latency, high throughput, full fault tolerance, the ability to run in ad hoc and autonomous environments, and support for unreliable or low-bandwidth networks such as wireless and satellite links. A loosely coupled integration approach significantly reduces long-term software maintenance costs by allowing individual subsystems to be added or upgraded without impacting existing software.
RTI Data Distribution Service provides application programming interfaces (APIs) that comply with the Object Management Group (OMG) Data Distribution Service for Real-Time Systems (DDS) specification, the leading standard for real-time application integration. RTI also natively supports the Real-Time Publish-Subscribe (RTPS) wire protocol for peer-to-peer interoperability with other RTPS-compliant DDS implementations. RTI is the world's leading supplier of DDS-related software and services.
About RTI
Real-Time Innovations (RTI) provides high-performance messaging and integration infrastructure for distributed real-time applications. RTI is the leader in the rapidly growing market for Data Distribution Service (DDS) compliant middleware. A broad range of industries leverage the company's software and design expertise, including defense, intelligence, simulation, industrial control, power generation, transportation, finance, medical, and communications. Founded in 1991, RTI is privately held and headquartered in Sunnyvale, CA. For more information, please visit www.rti.com.
# # #
RTI, Real-Time Innovations, RTI Data Distribution Service, Connext and 1RTI are registered trademarks or trademarks of Real-Time Innovations, Inc. All other trademarks are property of their respective companies.