RTI Data Distribution Service chosen for robustness, performance and ease-of-use
SUNNYVALE, Calif.—October 26, 2010—Real-Time Innovations (RTI), The Global Leader in DDS, today announced that Cassidian, an EADS Company, has chosen RTI Data Distribution Service to enable the rapid development and integration of mission-critical sub-systems into its next-generation Ground Control Station (GCS).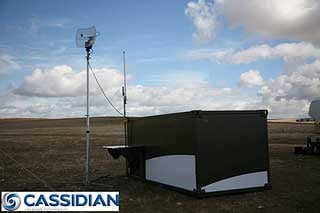 Ground Control Station
RTI Data Distribution Service is used both for the internal messaging requirements of several mission-oriented subsystems and for the messaging and integration between those subsystems. RTI Data Distribution Service had to meet the dual objectives of delivering very high performance while guaranteeing no single points of failure within the GCS architecture. This is a critical requirement for an Unmanned Air System (UAS) that will be deployed in hostile conditions or will be overflying populated areas. All subsystems must be designed to ensure they do not propagate failure across any other subsystem.
"RTI's implementation of the DDS standard is the best-performing and most robust solution we have tested. Achieving a real-time distributed system architecture with no single point of failure is tough," said César Castro Gómez, head of UAS Ground Segment, Cassidian Air Systems. "It was a pleasant surprise to find that RTI also significantly simplified and enhanced our integration environment, both for internal development and with subcontractors."
The development of a common data model as promoted by DDS enabled Cassidian to meet very tight development deadlines for both individual subsystem development and the broader integration of several subsystems that made up the GCS. Communication between developers, both within Cassidian and with its contractors, became much easier than anticipated due to the simplification of real-time integration issues into a straightforward expression of common data objects and real-time data-delivery requirements.
"This is yet another design win for RTI in the emerging Unmanned Systems market." said Curt Schacker, vice president of worldwide field operations, RTI. "We are pleased that Cassidian has recognized that RTI delivers the right type of software solution to meet the new challenges of robustness and performance required in next generation Ground Control Stations."
About RTI Data Distribution Service
RTI Data Distribution Service is a fully standards-compliant integration platform for real-time systems. It meets the demanding requirements of mission-critical applications, including low latency, high throughput and fault tolerance. The solution can run in ad hoc and autonomous environments, as well as over unreliable networks such as wireless and satellite links. It significantly reduces integration time and costs by allowing individual subsystems to be added or upgraded without requiring changes to existing software.
RTI Data Distribution Service complies with the Object Management Group (OMG) Data Distribution Service for Real-Time Systems (DDS) specification, the leading standard for real-time application integration. RTI also natively supports the Real-Time Publish-Subscribe (RTPS) wire protocol for peer-to-peer interoperability with other RTPS-compliant DDS implementations. RTI is the world's leading supplier of DDS-related software and services.
About CASSIDIAN
CASSIDIAN, an EADS Company, is a worldwide leader in global security solutions and systems, providing lead system integration and value-added products and services to civil and military customers around the globe: air systems (aircraft and unmanned aerial systems), land & naval and joint systems, intelligence and surveillance, cybersecurity, secure communications, test systems, missiles, services and support solutions. In 2009, CASSIDIAN with around 28,000 employees achieved revenues of € 5.4 billion. EADS is a global leader in aerospace, defence and related services. In 2009, EADS generated revenues of € 42.8 billion and employed a workforce of about 119,000. www.cassidian.com
CASSIDIAN, "Defending world security".
About RTI
Real-Time Innovations (RTI) is the world's leading provider of middleware compliant with the Object Management Group (OMG) Data-Distribution Service for Real-Time Systems (DDS) standard. With over 70% market share, more than 400 unique projects take advantage of RTI's software and expertise to slash the time and cost of systems integration. These span a broad range of industries including aerospace, defense, finance, intelligence, power generation and transportation. Founded in 1991, RTI is privately held and headquartered in Sunnyvale, CA. For more information, please visit www.rti.com.
# # #
RTI, Real-Time Innovations, RTI Data Distribution Service, Connext and 1RTI are registered trademarks or trademarks of Real-Time Innovations, Inc. All other trademarks are property of their respective companies.