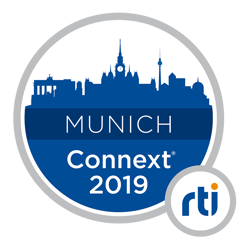 Connecting Our Users: The DDS Experts
The RTI team is excited to announce that due to continued demand for designing smarter and more secure systems for the IIoT, we are bringing the Connext Conference to Munich for the third time around! We will host our two-day event May 21-22, 2019 at ESO Supernova.
Munich Connext Conference 2018 brought power DDS users together from a wide range of industries to share experiences, applications and expertise. Munich Connext Conference 2019 will be the world's largest gathering of technical software developers, designers and decision makers dedicated to building intelligent systems using DDS and the Connext family of products.
Subscribe to stay up to date on:
Agenda updates
Early registration
Speaker submission deadlines, and more
We hope to see you on the list!