Originally presented on March 23, 2016.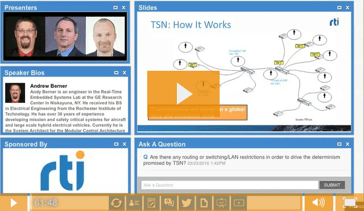 Performance and scalability are critical for transportation and industrial control systems. Common requirements in both types of systems include the ability to predictably process system events in real time and the ability to fail gracefully. These common requirements give rise to an innovative idea of interoperability of the Data Distribution Service (DDS) protocol with deterministic Ethernet technologies: Time-Sensitive Networking (TSN) and Time-Triggered Ethernet (TTE).
Join experts from GE and RTI as they explore the challenges of deterministic Ethernet today and explain how the power fusion of DDS with deterministic Ethernet can effectively address them.
Complete the form to watch the on-demand webinar.