Originally presented on March 14, 2017.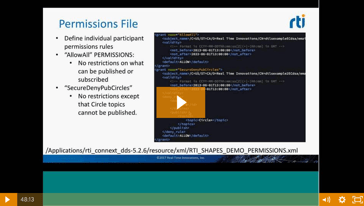 Upgrading your system can often feel like a risky venture, especially if it involves significant changes to your connectivity infrastructure. Add to this the pressure to incorporate security capabilities into your solution and the task can become paralyzing. Thankfully, this is not the case with the Data Distribution Service (DDS) Security Specification.
The DDS Security Specification extends the proven DDS framework through the addition of a set of flexible security plugins. New and existing applications can now upgrade their security capabilities without the overhead of any additional software development. This includes authenticating domain participants, encrypting topics, and controlling which participants are allowed to publish or subscribe to each topic.
Does this sound good to you? RSVP today to learn more about the OMG DDS Security Specification and what RTI's Connext DDS Secure can do for you.
Complete the form to watch the on-demand webinar.