Originally presented on January 17, 2017.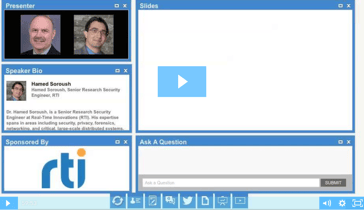 As connected devices become more prevalent, industrial systems are growing and advancing at an unprecedented rate, exposing networks that have otherwise been isolated from attacks. This has created an enormous risk for businesses operating industrial processes and placed an emphasis on the need for a comprehensive security solution.
The Industrial Internet Consortium (IIC) released the Industrial Internet Security Framework (IISF), the most in-depth framework that addresses security issues in Industrial Internet of Things (IIoT) systems. The framework focuses on safety, reliability, resilience, security and privacy, and is designed to help IT and OT professionals, system architects and industrial engineers define risks, assessments and threats to proactively mitigate security concerns in complex IIoT infrastructure.
Watch now for an overview of the key points of the IISF including how to implement advanced security technology without interfering with performance and reliability. Additionally, attendees will learn the best practices for leveraging the document in developing security solutions for critical industrial systems.