Originally presented on June 15, 2016.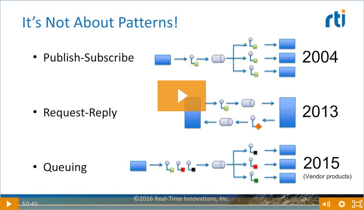 The Object Management Group® (OMG®) and the OPC Foundation recently announced a collaborative strategy for the two leading connectivity standards for the Industrial Internet of Things (IIoT)—the OMG Data Distribution Service (DDS) and the OPC United Architecture (OPC UA) standard. Together, with the Industrial Internet Consortium (IIC), Industrie 4.0, and leading DDS and OPC UA vendors will lead this strategy to enable immediate Industrial IoT market adoption.
In this webinar, Stan Schneider, CEO of RTI, and Thomas J. Burke, OPC Foundation President & Executive Director, will:
Outline a strategy for the integration of these standards and discuss how they are largely complementary and compatible.

Explain how these standards are important to the future of the IIoT.

Detail how companies such as GE, Honeywell, National Instruments, SAP and Siemens are supporting the strategy.
Complete the form to watch the on-demand webinar.