Originally presented on April 13, 2016.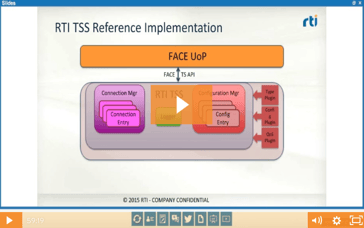 The primary objective of the FACE Technical Standard is to define a reference software architecture. The Reference Implementation Guide documents approaches and best industry practices to instantiate the reference software architecture for developing and verifying infrastructure software components and application components. This webinar will examine a case study of such a reference implementation in order to demonstrate capabilities that can be integrated using FACE aligned components. These components include:
An Operating System Segment (FACE Safety Base Profile aligned) utilizing both C and C++ runtimes

A Transport Services Segment (TSS) utilizing DDS and ARINC port services

A Platform Specific Services Segment (PSSS) including Graphic Services
Complete the form to watch the on-demand webinar.