Ease the configuration process and manage the complexity of building large systems with RTI System Designer
RTI System Designer is a fully productized feature, from Connext 6.1, forward. For customers on Connext 6.1, the functionality is built in to the product. For customers not yet migrated to Connext 6.1, RTI System Designer is available from this web page for a limited period of time.


Introduction
RTI System Designer is a graphical tool that allows you to define and configure Connext® systems. You can use it as a user interface to XML-Based Application Creation, a mechanism that allows users to specify all the aspects of a Connext system in XML format including:
Data Types that will be used to communicate information in the system
Topics that will be used in the domain, each associated with a Data Type
Domain Participants that can potentially be used in the system
Data Writers and Data Readers present within each Domain Participant, each associated with its corresponding Topic
Quality of Service libraries and profiles and their use to configure all the DDS Entities in the system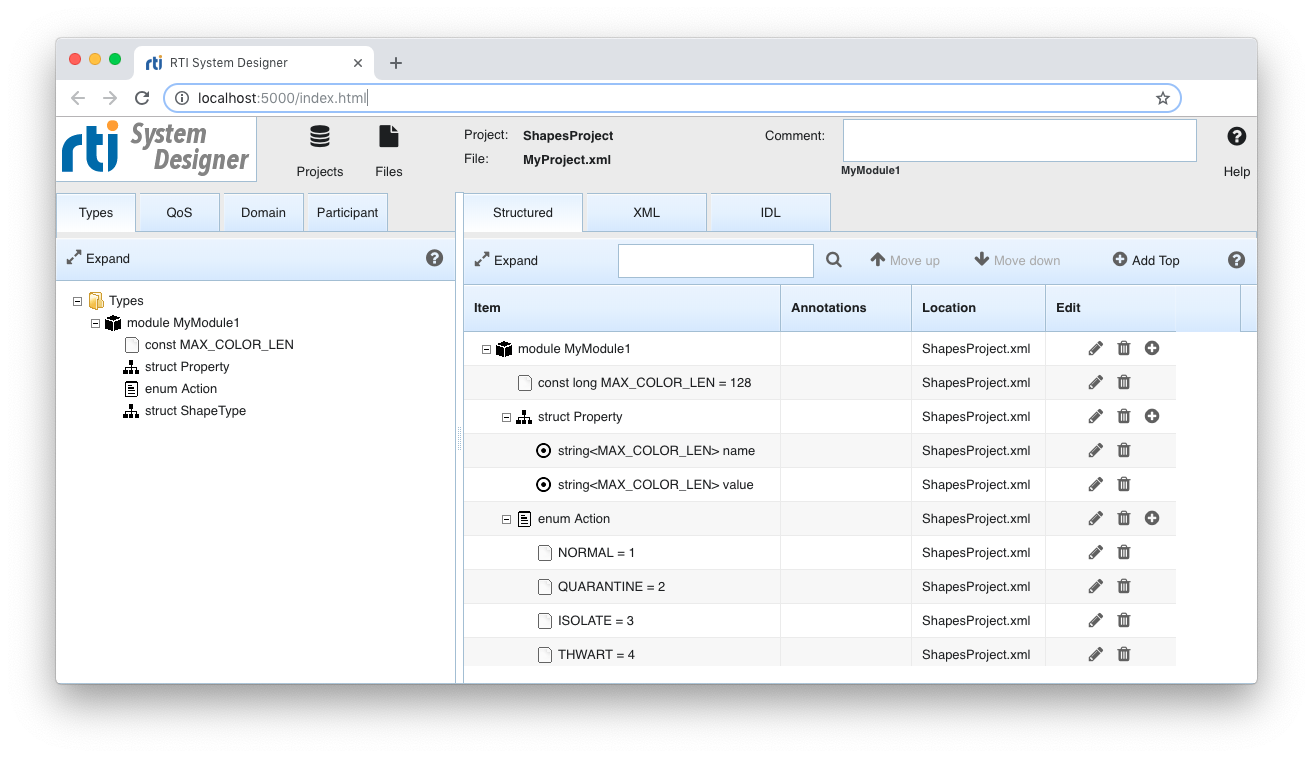 RTI's XML-Based Application Creation infrastructure takes care of the rest creating the Domain Participant, registering the Types and Topics and populating all the configured Entities. (Want to learn more about XML-Based Application Creation? Start here.) View the System Designer demo.
Writing this XML by hand can be quite challenging. While a good editor with auto-completion capabilities and an understanding of the XML schema provided can be of great help, it is still quite complicated... especially as the project gets bigger and involves multiple files.
RTI System Designer can help ease this process and manage the complexity of large systems.
Specifications
RTI Labs Project Type: UI Tool

Maturity level: Prototype
Support. This is an experimental RTI product, developed by RTI Research. As such, it is not officially supported, however, we do offer support through the RTI Community Forum where fellow users and RTI engineers can help you.
Intent. We're planning on future development.
Feedback. We'd love your feedback! Please visit the RTI Community Forum to provide feedback on System Designer.
Project Version Information. This is version 0.4.0 - built for Connext 6.0.1.
Product compatibility.
Darwin 64-bit (macOS)

Windows 64-bit

Linux 64-bit



For information regarding supported platforms and compatibility, please see the documentation.
License. System Designer is governed by Section 3e (Evaluation License) of the Software License Agreement.


Download
RTI System Designer is distributed as a rtipkg file and is available for the following architectures:
Try the Live Version
If you would like to try System Designer before downloading it, you can access a live version of it on the web here. This will allow you to test a demo version of System Designer and check out its capabilities and features before installing it.



Documentation
The RTI System Designer Getting Started Guide contains detailed instructions to help you with:
Installation

Getting Started

Troubleshooting

Launcher Update
After installation, please restart the RTI Launcher. The System Designer icon will be updated to show that it can now be opened natively within Launcher:

Join the RTI Community
Post your questions, search through our Knowledge Base, and get the most from your DDS experience by joining the RTI Community!