Originally presented on November 19, 2015.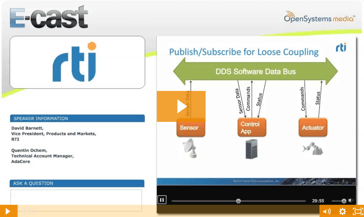 The Ada programming language is particularly well suited to developing mission-critical and safety-critical systems that must be cost-effectively maintained over long lifecycles. These systems increasingly consist of multiple components distributed across processing nodes. Developers therefore require a mechanism for inter-module communication and integration.
Because of its real-time performance, resilience and support for an open architecture, the Data Distribution Service (DDS) standard provides an ideal connectivity solution for Ada applications. Its publish/subscribe communication paradigm and high-level API simplify distributed system development while providing loose coupling between components. Its decentralized, peer-to-peer architecture delivers low latency while eliminating any single point of failure.
This webcast will review the Ada 2012 language, introduce the DDS standard, and show how their integration provides a robust foundation for mission-critical distributed systems.
Complete the form to watch the on-demand webinar.