Features and Enhancements and Support - Oh My!

As engineers we all know that product releases are no joke. The making of a great product is fueled by hard work, and lots of it. It takes teams of people working together to make something bigger and better than any one of them could do alone. The results generated by all of that hard work can be downright inspiring and impressive. But do you know what my favorite part of the release is? It's the feeling when we ship it to the public. When all of the ducks are in order. Every person in the company, irrespective of their group, has contributed something necessary to getting the product to that point. Seeing it all come together? That's my favorite part. I love it.
Did I mention that RTI Connext DDS 5.1.0 was released 2 weeks ago? It was!
To help ensure your transition to the new version is as seamless as possible, as well as keep you informed on the new features and enhancements you'll see in version 5.1.0, I thought a post that served as a cheat-sheet of sorts might be helpful. We have put a lot into this release and I'm sure that you'll love some of the great new features such as our new Built-in QoS Profiles and additional support for DDS-XTypes . For up-to-date product information and more information about the release, don't forget to visit our Community Portal follow us on twitter .
I hope you enjoy 5.1.0. We certainly enjoyed all of the work we did bringing it to you.
Connext DDS 5.1 - Download

Community Newsletter - Special Edition
A Special Edition newsletter, focused solely on the 5.1 release, was sent out to all registered community members. You can find a copy of it here (although, you all should be registered community members so you would have already received and read this!).
Free Webinar + Slides/Replay Available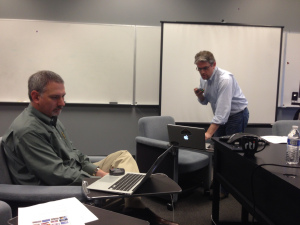 David (our VP of PM) and Jan (VP of Engineering) presented a webinar where they dove into the new release and it's capabilities - it was pretty awesome. If you missed out, don't worry! You can view the replay (here), the slides (here), and if you have any questions about the webinar content – or the release!– you can post them on the Community Portal forum. We'd love to hear from you and help you out!
5.1 Blogs
A handful of posts were put together to inform you of some new features and capabilities in this release.
Additional content on the Community Portal
Also be sure to check out the Connext DDS landing page on our main website. It's been updated with all kinds of info on the release, including a video.
Subscribe to the RTI Blog