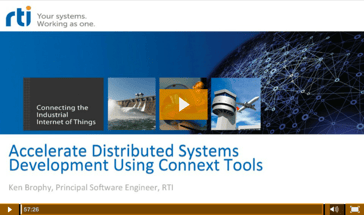 Originally presented on June 22, 2016.
Looking to speed your time to market and develop more efficient Data Distribution Service (DDS) applications?
Watch this on-demand webinar to learn how to:
Gain deep visibility into your running systems
Identify root causes of application connectivity issues
Solve complex data integration problems
Our tools expert will cover how you can use the tools included in RTI Connext DDS Pro to accelerate your distributed systems development.
Whether you are just starting your DDS journey or have been building DDS applications for a while, we have a tool or two for you!
Complete the form to watch the on-demand webinar.